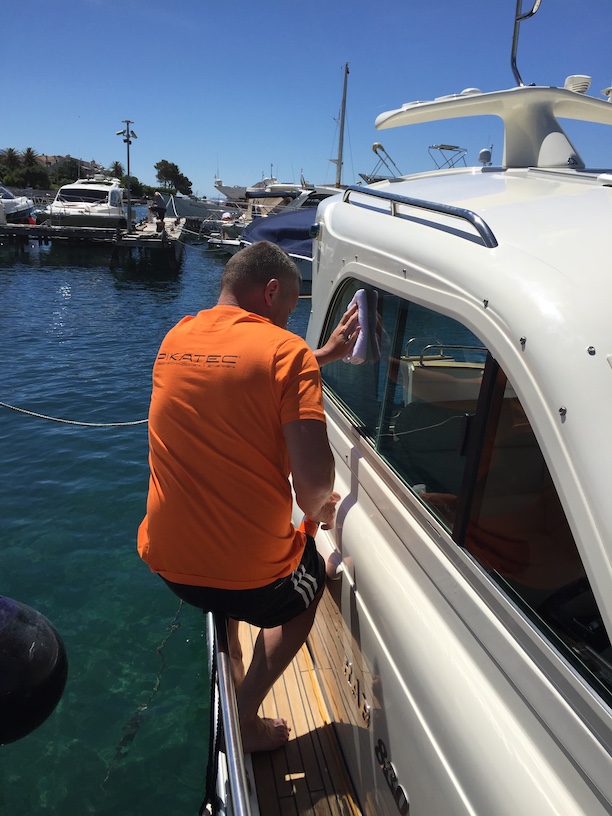 The nanotechnology agent Nano Degreaser & Polisher BOAT penetrates deep into the pores of various surfaces and removes a wide range of greases that could affect the adhesion and functionality of protective polishes. It is therefore used as a final degreaser before the protective polishes application. Thus an ideal helper for the preparation of virtually all surfaces on the ship. You can use it on glass, stainless steel, chrome surfaces, as well as on wooden, textile, leather, lacquered or plastic  surfaces and gelcoat. We recommend application by spraying the product always on a Microfiber cloth which you are going to wipe the surface with.
The product is also an essential aid while polishing the protection polish on glass (Nano Protect Glass BOAT), stainless steel (Nano Protect Stainless BOAT) and gelcoat (Nano Protect Gelcoat BOAT). Without it, it is very difficult to remove the excess  polish from the surface. With this product the the final polishing is easier and smooth and you can be sure that you are only removing the excess layer of the applied protection. While polishing never press too hard on the cloth. Always spray the product straight on a cloth, not on the surface itself. The total area for which the product is sufficient is 30 m2. (If you apply too thick layer the consumption of the product will be many times higher, and the laboriousness will increase as well.).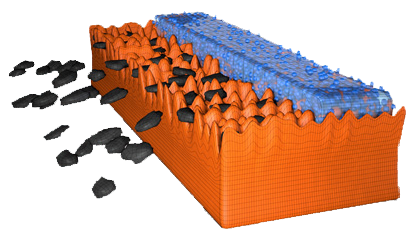 Přípravek vniká hluboko do pórů povrchů,
kde odstraňuje mastnoty a nečistoty.
Even surfaces that seem to be absolutely clean hide some grease that can limit the functionality of the subsequent protection. It is therefore necessary to remove them before the protection application itself. Whether it is glass, lacquered surfaces, plastics, wood, textiles, or any other surface, the procedure is always the same. New boats are often surface treated from the factory, mostly for a nice look when being sold. Degreasing with Nano Degreaser & Polisher BOAT will give you the certainty that you will get rid of this "for effect" short-term treatment and you will properly prepare all the surfaces for application of protective polishes.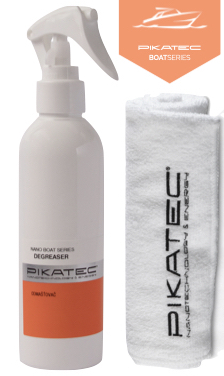 Polishing of protective Nano products on glass, gelcoat and stainless steel: Because some types of surfaces have a complex structure and are exposed to extreme conditions, we have adapted the composition of individual protection policies accordingly. Due to the hardness of some of them, polishing in the usual way is very difficult. We have therefore adapted Nano Degreaser & Polisher BOAT so that it dilutes excess protective layer and it is easy to remove / polish it from the surfaces. Use a Microfiber cloth, on which lightly spray the Degreaser and immediately start polishing. Don´t put too much pressure on the cloth, if the work gets more difficult, add another little amount of the degreaser to the cloth again and continue working. The cloth absorbs excess polish, so it is advisable to fold it and turn it at the time when it starts to leave smudges during the polishing. Equally,  the Degreaser can be also used when polishing other protections, which are standardly polished only with a dry microfiber cloth, especially if you have applied too thick layer and polishing is very laborious. In this case, the product can also be used to polish such affected areas making your work much easier and faster.

Instructions:
The product only serves as a degreaser, which degreases the surface perfectly, so it should be applied to an already cleaned surface free of coarse dirt and various calcium deposits or limescale.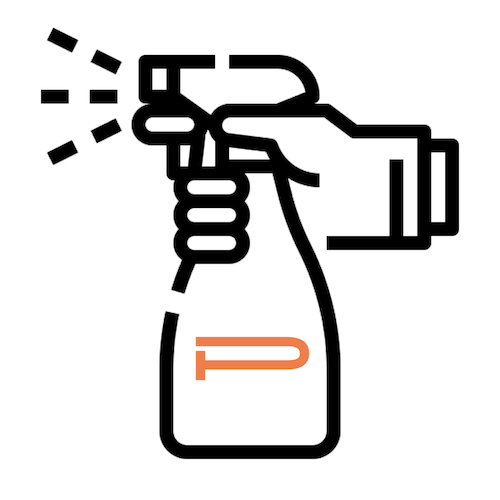 For example, when cleaning a surface from limescale residues, it is absolutely necessary to degrease the surface after using a cleaner which removes these limescale. The calcium remover cleans limescale very well, but it leaves a greasy mark that needs to be removed - degreased. 
On a clean, preferably microfiber cloth, lightly spray Nano Degreaser & Polisher and wipe the surfaces free of coarse dirt with a cloth. When cleaning smooth or shiny surfaces, always check there are no smudges and streaks left on the surface after degreasing. To achieve perfect result it is very important to have a really clean cloth, especially with absolutely no residudues of any previous cleaners. Also when washing the microfiber cloth, never use fabric softener. If everything is in order, and there are no smudges left on the surface we can continue by applying protective polishes.
Important warning:
Always degrease only well washed / pre-cleaned surface free of coarse dirt, which, if unremoved, could  scratch the cleaned surface.
Types of hazards: Flammable liquid, irritating to eyes with possible toxicity to specific target organs.
No user reviews so far.
User reviews :
User reviews can be submitted only by registered and logged-in users.