We have prepared a comprehensive set of Nano Home Pack nanocosmetics so that it contains all the necessary means for the treatment and protection of surfaces in bathrooms.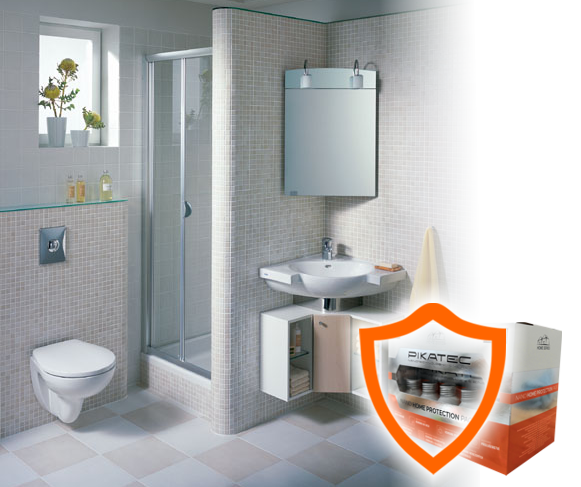 However, stainless steel, ceramic surfaces, plastics and glass can also be found in other interiors and exteriors of buildings, so you can use the set practically anywhere.The patented technology creates an invisible and very durable thin film on the surfaces, which protects the treated areas from dirt, bacteria and damage for up to 2 years. The principle of the products consists in closing and smoothing the treated surfaces so that the protective shield prevents dirt from getting caught in the structure of materials and for the subsequent cleaning we only needed a cloth, ordinary water and a fraction of the time we spend cleaning now. If any dirt still sticks to the treated surface, it can be easily wiped off with one stroke with a dry or damp cloth without the need for any additional chemicals. The protective layer repels water, grease and prevents the growth of bacteria, so the surface becomes naturally antibacterial. Thanks to the hardness and added UV filters, the treated surfaces are many times more resistant to damage, discoloration and aging.
What properties does the treated Surface acquire?
Reduces cleaning and maintenance time by up to 80% in the long run
Significantly reduces surface soiling
It repels dust, water and oil
Protects surfaces for up to 24 onths
Smoothes and closes the treated areas
Significantly eliminates faded surfaces
Extends their durability
Increases the hardness and durability of surfaces
Emphasizes shine
Protects against UV radiation
Protects against mechanical wear
Protects against fungi and bacteria
Resistant to high temperatures and chemicals
Prevents aging of surfaces
Very easy maintenance
Set Protects:
Stainless steel, chrome and non-ferrous metals
Ceramic surfaces and tiles
Plastics
Glass and Mirrors
Set also contains:
Universal Home Cleaner
Degreser and Polisher
Accessories

Application of Nanocosmetics

Applying the products is not complicated at all. You only need 4 steps to it. The surface must first be thoroughly cleaned and degreased. Then apply the protective polish, leave on for a few minutes and then polish with a cloth. Always read the current manual.

With the new recipe even more durable

We have broken another major milestone in surface protection and improved the structure of the protections so that their properties are even more perfect.

Set contains:

 

 

 Types of hazards: Flammable liquids with possible eye damage, skin irritation, inhalation hazards and specific target organ toxicity.
No user reviews so far.
User reviews :
User reviews can be submitted only by registered and logged-in users.