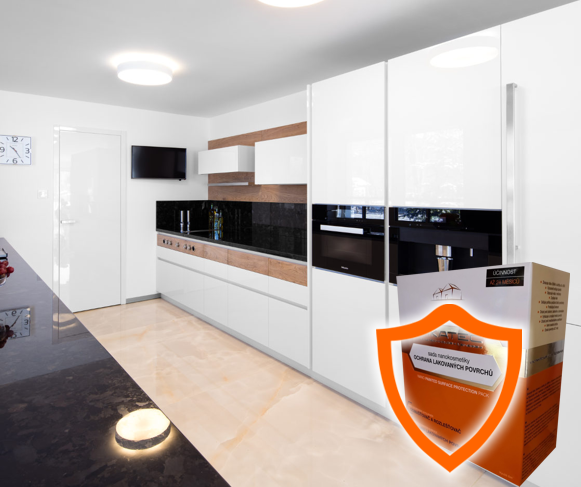 Painted surfaces can be found in almost every home and garden. Whether modern high-gloss furniture sets or, for example, lacquered wood, all these surfaces have similar properties. The varnish is very soft and it is really easy to scratch it. On most painted parts this occurs just during the cleaning, when dirt in the cloth (crumbs, dust etc.) and its movement grinds the cleaned surface and leaves small scratches on it. Likewise, fingerprints easily stick to the glossy varnish, which look unsightly and is not easy to get rid of without the use of chemicals. Like other surfaces, lacquered ones are also subject to UV radiation over time which changes their appearance and color.

The patented technology creates an invisible and very durable thin film on the surfaces, which protects the treated areas from dirt, bacteria and damage for up to 2 years. The principle of the products consists in closing and smoothing the treated surfaces so that the protective shield prevents dirt from getting caught in the structure of materials and for the subsequent cleaning we only need a cloth, ordinary water and a fraction of the time we spend cleaning now. If any dirt still sticks to the treated surface, it can be easily wiped off with one stroke with a dry or damp cloth without the need for any additional chemicals. The protective layer repels water, grease and prevents the growth of bacteria, so the surface becomes naturally antibacterial. Thanks to the hardness and added UV filters, the treated surfaces are many times more resistant to damage, discoloration and aging.
Chcete o technologii vědět více?
Always apply to surfaces free of all impurities.
Package contents and consumption
The package contains 100 ml of Nano Protect Painted Surface - Protection of painted surfaces. It is enough for up to 30 m2 when applying one layer.
Application of nanocosmetics
Application of the products is not complicated at all. You only need to follow the 4 steps. At first the surface must be thoroughly cleaned and degreased. Then apply protective polish, leave on for 5 minutes and then polish with a cloth.  Always read the relevant instructions in the package.

Surface maintenance after application
Surfaces treated with Pikatec nanocosmetics are smoother, much more resistant to damage and for their maintenance just a dry or moistened microfiber cloth is sufficient. With that you will be able to wipe off all dirt easily, the treated surfaces will always look like new and you will not need any other harmful chemicals to clean them. How to clean properly?
Instructions for use
Surface preparation: For the protective polish to work properly, it is important to ensure that it adheres well to the surface to be protected . For this reason, it is necessary to remove all impurities and grease from the painted surface, which could cause limited function of the protection as well as affect its durability. Check the surface for traces of water, smudges or other stains. These need to be removed from the surface before application of the protection, otherwise you could "preserve" them in the protective layer and it would be very difficult to get rid of them afterwards. For final degreasing before the application itself, we recommend using Nano Degreaser & Polisher - Degreaser and Polisher.
Application: Shake the protective polish thoroughly before use and also often during application. Apply a small amount of polish on the Application Cloth or Microfiber Application Pad. Then apply continuous and very thin film of the product to the surfaces in a circular motion. If we treat a structured lacquered surface (for example lacquered wood), we recommend applying the product always in the direction of its natural pattern (not in a circular motion). When working, try not to cross the already applied surfaces again, as this would increase the laboriousness of both application and subsequent polishing. You don't have to worry, we are in a nano environment and one thin layer (one stroke on the surface with an application cloth with polish) is absolutely sufficient for surface treatment. At the moment when the cloth no longer leaves any film during application, add a small amount of protective polish to it again and continue working.
After application, let the polish harden for 30 minutes.
After 30 minutes, start polishing the surface with a microfiber cloth. Do not put too much pressure on the cloth and continue until complete polishing. The cloth absorbs excess polish, so it is advisable to turn and fold it at the time when it starts to leave smudges and polishing gets more difficult. For structured surfaces, we recommend polishing the polish again following its natural pattern. The optimal effect and final hardness of the protective polish occurs after 12 hours.
One to 2 weeks after application, it is advisable to wash the surface by hand with warm water and after drying, clean it with a cloth, on which we lightly spray Nano Degreaser & Polisher. This removes greases which the protective polish additionally removes from the surface (so-called emulsifiers) and which limit the water-repellent effect until removed.
Additional information:
The protective polish can also be carefully used on matt varnishes. However, due to the different qualities of materials and varnishes, always try the application in a less visible place first and only then, if everything is in order, apply the entire surface. Lower quality matte finishes can change their appearance when any product is applied.
Use the polish immediately after opening the bottle.
Types of hazards: Flammable liquids with possible eye damage, skin irritation, respiration hazard and specific target body organs toxicity.
No user reviews so far.
User reviews :
User reviews can be submitted only by registered and logged-in users.