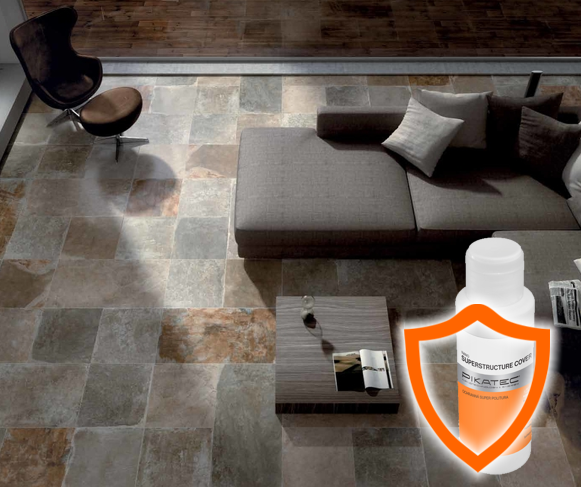 Load-bearing surfaces such as walkable floors, kitchen table tops or bathroom tiles are much more exposed to mechanical movement and thus to the risk of damage. The more the surface is used, the more it wears out and the top layer of materials gradually weakens. Whether it is wood, stone or ceramics, the protective polish on a given surface does not have to last so long under extreme mechanical stress, that is why we recommend strengthening the protective layer on such exposed surfaces and thus prolonging their service life.


The nanotechnological product Nano Superstructure Cover is a specially developed polish with an antibacterial effect serving for even stronger surface protection. It works exclusively as the final phase on already applied polishes Wood protection - Nano Protect Wood, Stone protection - Nano Protect Stone, Protection for plastics - Nano Protect Plastic and Protection of ceramic surfaces and tiles - Nano Protect Ceramic & Sanitary, immediately after their curing. It has a long-term effect on absorbent materials inside the structure of wood, stone and concrete. It acts on the surface on non-absorbent materials. Its composition ensures a significant final strengthening of the surface and thus greater abrasion resistance, high water repellency and protection against UV radiation, causing color fading. The treated surface is getting less soiled, it can be better cleaned and washed, no mold or various bacterial cultures spread on its surface. Want to know more about technology?
Always apply to surfaces free of all impurities.
Package contents and consumption
The package contains 100 ml of Nano Superstructure Cover. It is enough for up to 10 m2 when applying one layer.
Application of nanocosmetics
Application of the products is not complicated at all. You only need to follow the 4 steps. At first the surface must be thoroughly cleaned and degreased. Then apply protective polish, leave on for 5 minutes and then polish with a cloth.  Always read the relevant instructions in the package.

Surface maintenance after application
Surfaces treated with Pikatec nanocosmetics are smoother, much more resistant to damage and for their maintenance just a dry or moistened microfiber cloth is sufficient. With that you will be able to wipe off all dirt easily, the treated surfaces will always look like new and you will not need any other harmful chemicals to clean them. How to clean properly?
Instructions for use:
Application: Shake the product well before use. Apply to surfaces treated with Nano Protect Wood, Stone Protection - Nano Protect Stone, Plastic Protection - Nano Protect Plastic and Ceramic Surface and Tile Protection - Nano Protect Ceramic & Sanitary. Apply with a non-absorbent cloth or an application pad on which you place small amount of Superstructure Cover polish.
For non-absorbent materials, apply a continuous and very thin film of the product to the surfaces using circular motion. Leave on for about 30 minutes and then start polishing the polish preferably with the microfiber cloth. While polishing do not apply too much pressure on the cloth. As the cloth absorbs excess polish, it is advisable to fold and turn it at the time when it starts to be saturated on one side and starts to leave a smudges during polishing.
For absorbent surfaces, spread the product on the surface in thin even layer so that it "sticks" to the surface structure. Then it is not necessary to polish it further.
If desired, you can apply two or even more layers. Always apply additional layers only after the first application has hardened completely, ie. after 12 hours. Should you apply the following layer earlier, you would in fact still apply the one coat, just thicker, which is undesirable in terms of bonding and hardening the polish to the surface. Before application of each layer, check that the surface is clean, especially on surfaces that are exposed to external influences. The last phase is polymerization, when the protective polish hardens about 12 hours after applying the last layer and it has the final strength and flexibility.
One to two weeks after application, it is advisable to wash the surface by hand with warm water and after drying, clean it with a cloth, on which we lightly spray the Degreaser and Polisher - Nano Degreaser & Polisher. This removes greas residues which the protective polish additionally removes from the surface (so-called emulsifiers) and which limit the water-repellent effect until fully removed.
Additional information:
The product is not suitable for use on medium and very coarse materials, for which its subsequent polishing might not be possible due to the given roughness. Due to the high water repellency, the treated surface may be more slippery when wet. The product can be used only in combination with the named protective polishes, in any case do not combine it with other Pikatec protective products. Areas treated with a protective superpoliture will be less so-called "breathing", therefore consider its applicability for each specific case.
Use the entire content immediately after opening the bottle.
Types of hazards: Flammable liquids with possible eye damage, skin irritation, respiration hazard and specific target body organs toxicity.
No user reviews so far.
User reviews :
User reviews can be submitted only by registered and logged-in users.